Spotlight
New Home Construction
Bryan Bell Construction, Inc, currently have several new Custom Homes under construction. Watch our progress as these homes start from excavation to completion. One Level Home Basement Home ...
Insolroll Window Shades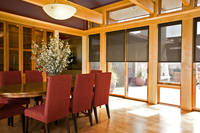 Insolroll Window Shading Systems Bryan Bell Construction, Inc. offers a full line of Insolroll Shades. Insolroll manufactures high quality window shade and patio shade systems for residential and commercial applications. Our expertise in controlling natural sunlight with solar screen and blackout window shades allows us to recommend the perfect window covering or patio shade solution. ...